Help'n'Trade is a technology startup, which built a next-generation marketplace application for small local businesses and consumers.
On Help'n'Trade, business owners can open local e-shops with a few clicks, become discoverable in a chosen location and sell their services directly to customers. On the other hand, as a consumer, they have a choice to purchase a service from a professional service provider or ask for help from a neighbour and exchange skills, goods and services in the process.
Help'n'Trade marketplace for "everything local" helps the local economy, fuels local communities and helps the environment through C02 emission reduction.
UX Activities
Heuristic evaluation of the App

Light Cognitive Walkthrough
Tools Used
Miro
Microsoft 365

Google Sheets

UX Check plugin for Google Chrome

Discord
The Problem
The pilot version of Help'n'Trade was released early this year with part of its features. The team did a round of user testing only to realize that users were not able to register their businesses as easily as they expected and the consumers were having issues navigating through the application. They also got some feedback that the application could do with an overall improvement.
Project Goals
The goal of this project was to perform heuristic analysis and a light cognitive walkthrough of the Help'n'Trade application to find out issues that prevented users from having a positive experience with the application.
The Research
Our initial research involved performing a heuristic evaluation. After the changes based on the evaluation were implemented, I conducted a light Cognitive Walkthrough of the application and reported my findings.
Heuristic Evaluation
The three of us UX Researchers combined our findings along with their severity in a Google Sheets template by Carlos Rosenberg. This template helped us collate our observations and it provided us with a summary, issue type and tasks, key findings, and more.
I further linked my issues to the Google Sheet with the application screenshots, so that it would be easy for the Help'n'Trade team to locate the screen where the issue was mentioned.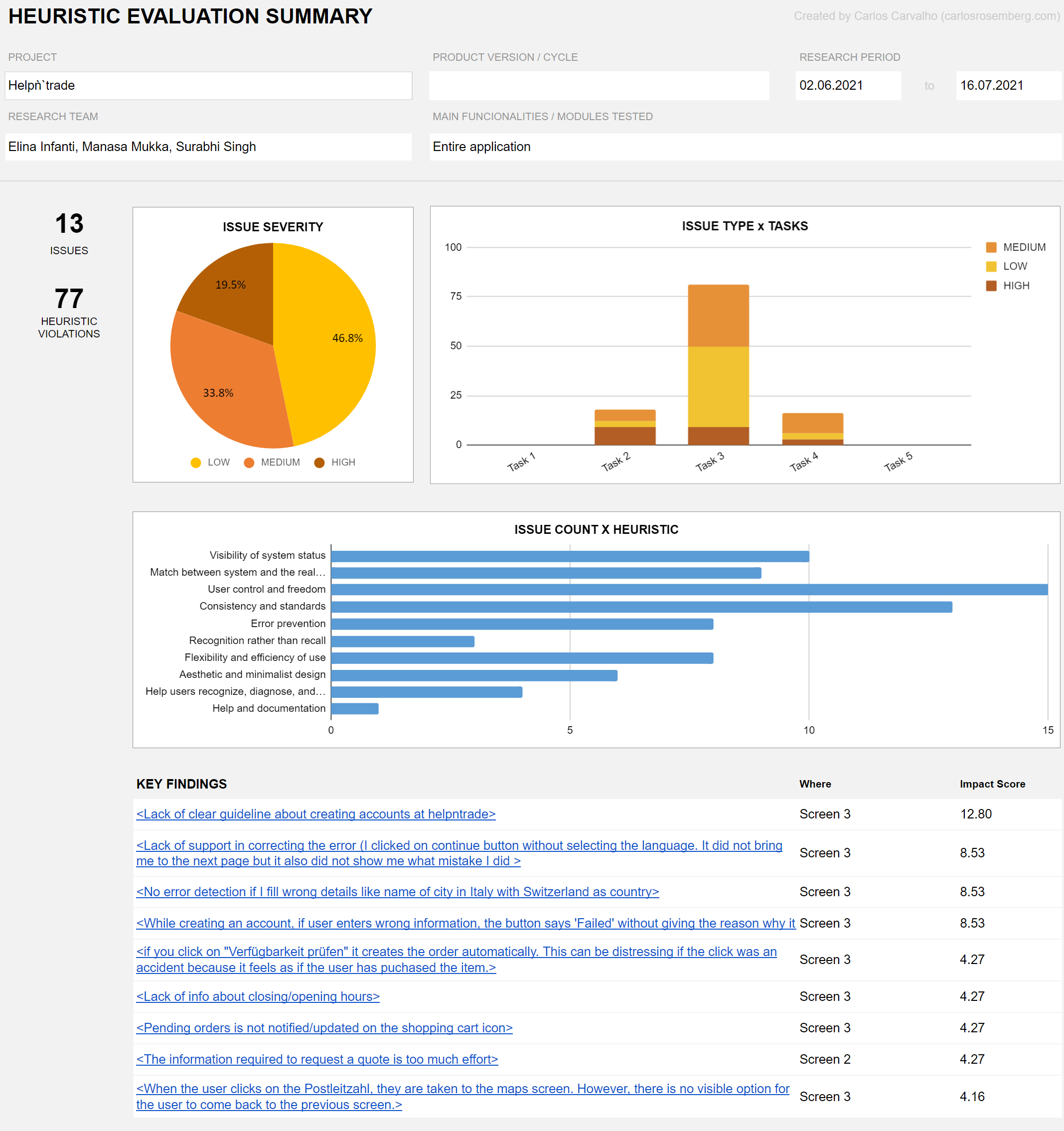 Heuristic evaluation results (image blurred to protect confidential data)
Soft Cognitive Walkthrough of the Help'n'Trade app
After the issues identified in the heuristic evaluation had been fixed, I performed another evaluation of the application. I also evaluated their newly redesigned homepage and new functionalities such as the dashboard functionality.
I performed a soft cognitive walkthrough of the application thoroughly and provided my detailed feedback as a report.
Learnings
Contextual Inquiries, although time taking, can provide valuable understandings to a workflow.
Never underestimate the power of cold emails! We sent out about 700 emails to the members of the Swiss Insurance Medicine (SIM) association (emails can be publicly viewed) and received around 10% of responses which was very useful for our research.
The synthesis of data took us much longer than expected. I learned to give myself enough time and more to synthesize data.
Working with qualitative and quantitative needs to be strategized differently, but their combination can be used to form important insights about the project.
Manasa's feedback proved invaluable for the development of our digital product. Manasa built up a Heuristics report as a basis upon which we were able to focus and prioritize our further development and improvements. Her in-depth report showed dedication to our vision, focus on results, attention to details and invested effort beyond expectation.
I warmly recommend Manasa as a UX researcher for any team which is dedicated to improve their digital products as I believe Manasa brings great value, experience and critical thinking needed to excel.