Jaide is a SaaS product to empower UX researchers in qualitative research. It serves as a helping hand during the analysis phase to reach fascinating results faster and go beyond the bias. Jaide uses Artificial intelligence to assist researchers deep-dive into their research and provide insights instantly.
Jaide can automatically transcribe, find patterns, generate reports, work alongside researchers and be their virtual assistant.
Client
Jaide AI, The Netherlands and Lisbon
Website
https://jaide.ai/
Web Application Name
Jaide
Role
UX researcher
Team size
Two (2) – one UX researcher, one UX designer
Timeline
July 2021 – Present, on a requirement basis
UX Activities
• User testing of mid-fidelity prototype
Finding suitable users for the user testing
Data Synthesis
Product improvement recommendations
Tools Used
Miro
Microsoft 365
Google meets
Tactiq transcription for Google Meets
The Problem
Working on qualitative data is always time-consuming and laborious.
Qualitative research results in long transcripts and extensive field notes that can be time-consuming to read; it could be a hard time seeing patterns and remembering what's important. This could result in the analysis being done very superficially, just skimming topics, focusing on only memorable events and quotes, and missing large sections of notes.
Sometimes the data from different participants or even from the same participant contains contradictions that researchers have to make sense of which could lead to indefinite findings.
The aims of the initial data collection are lost because researchers can easily become too absorbed in the detail. This can result in wasted time and misdirected analysis.
Project Goals
This research project aimed to understand the pain points of users while synthesizing qualitative data with the help of user testing.
Another goal was to find out if the "Charts" feature that was designed is a value add during data synthesis.
The Research
User testing with user researchers was planned to be conducted to check the acceptance of such a product.
Four (4) users were asked to test a mid-fi prototype with charts generated from transcribed interviews.
The resulting insights were used to edit part of the user interface and the resulting prototype was tested with five (5) more users.
Inputs from the researchers as to how they report their data was also taken for the next phase of the project.
The resulting data from the nine interviews were synthesized in two phases and I could extract valuable data from them. This research formed a base for the features and functionality of the Charts section in the application.
User Testing
I planned semi-structured interviews to understand how users perform their data synthesis and report their findings.
I also tested the prototype with the users and synthesized the data to find patterns and issues with the prototype.
I then made suggestions based on my findings and the modified prototype was tested on the second set of users.
Positive finding, participants found it delightful/easy
Priority issue; we must fix this issue
Issue encountered; fixing this will improve UX
FYI findings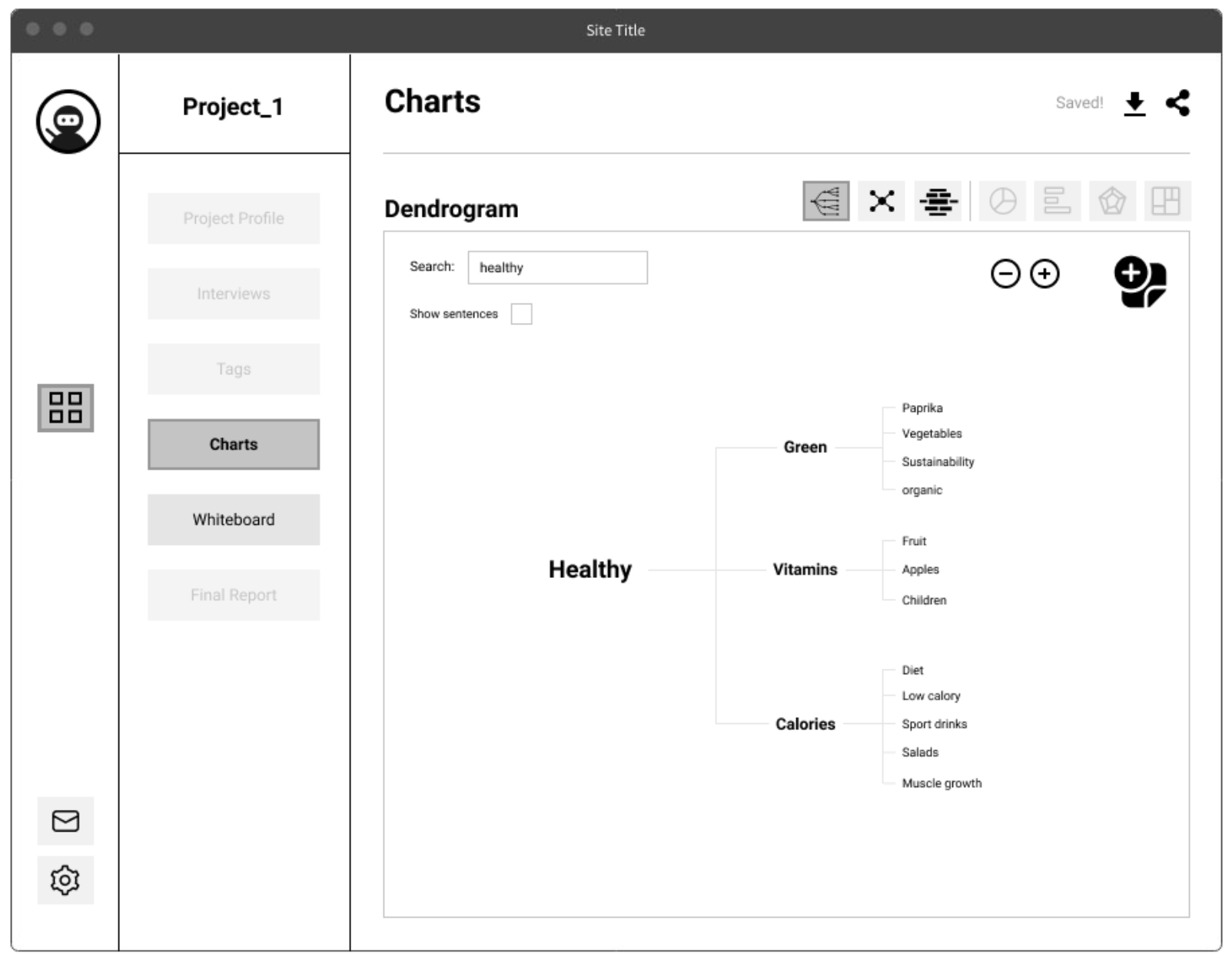 Wireframe of the first phase of the Jaide Dendrogram Chart before User Testing
Wireframe of the Jaide Dendrogram Chart after implementing the feedback from the first set of user testing
Learnings
I was able to sharpen my interviewing technique in this

It was a learning experience to be patient while the users were trying to think. I practised the echo and boomerang techniques to allow the user to think for themselves during the tasks.

One can get access to users for testing through social media such as LinkedIn and Slack.
Manasa is an enthusiastic proactive researcher. Very structured and detailed in her communication. I'm happy to have her as part of the Jaide team to give real user input. She co-shaped the first MVP and her insights helped in prioritizing the roadmap.