Case Study
Medical Thinking Systems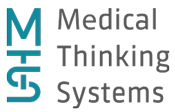 Medical Thinking Systems (MTS) provides mono-psychiatric, bi- and poly-disciplinary expert reports in the field of insurance medicine.
The clients of Medical Thinking Systems include state social insurance companies, private insurance companies, courts and lawyers of litigants in court cases.
UX Activities
Workshop planning and moderation
Qualitative Research – Contextual Inquiries, Interviews
Quantitative Research – Online survey
Data Synthesis
Tools Used
Miro
Microsoft 365
Notion for project management and note-taking
Additional
Initiating project and building team
The Problem
Preparation of а psychiatric report involves a lot of time and effort. The experts permanently find themselves in a field of tension between fixed remuneration, responsibility and quality requirements.
In order to solve this problem, MTS developed Salomo which was tightly tailored to the team's older report creation process. How can Salomo be redesigned to accommodate the new process and be licenced to other insurance companies?
Project Goals
The goal of this project was to find out how Salomo can support the psychiatric experts in the preparation of reports so that they can concentrate more on the quality aspects of their work.
Another aim was to validate the assumptions already made by the MTS team using user research with regards to the greatest difficulties in creating a psychiatric report.
The Research
Our research involved conducting workshops, contextual inquiries, an interview and an online survey. The results were then collaborated and synthesised. The problem was reframed and a set of recommendations was delivered.
Scoping Workshop
With the help of this workshop, we were able to understand the client's goals and requirements, sharpen the brief, and develop a research plan. During this workshop, numerous valuable inputs were gathered and insights were gained, a few of which are listed below.
Research Plan
Problem Statement Map
Stakeholder Matrix
Risk Analysis

Proto-Personas developed during the Scoping Workshop (image blurred to protect confidential data)
Online Survey
An online survey was conducted to gain general insights into the process of creating psychiatric reports and meeting the requirements of a larger user group.
For this purpose, a semi-structured questionnaire was developed and sent to all members of Swiss Medical Insurance (SIM). We received useful insights and helped us re-examine the assumptions that MTS had made about the process of creating psychiatric reports.
Contextual Inquiries
To gain an understanding of the expert opinion development process and the time required to complete it, we conducted four in-person contextual inquiries with Administrative Assistants, the Psychiatrist and the Assistant Psychiatrist.
Remote Interview – Assistant Psychiatrist
A semi-structured interview was conducted to find out how a second assistant psychiatrist manages her work. The interview was scheduled after the Contextual Inquiries so that the observations from the Contextual Inquiries can be revisited.
Synthesis Workshop
After collecting the data from the workshop, the Contextual Inquiries, the Survey and the Interview, we conducted an internal Synthesis Workshop. This helped us find patterns based on the data and observations collected.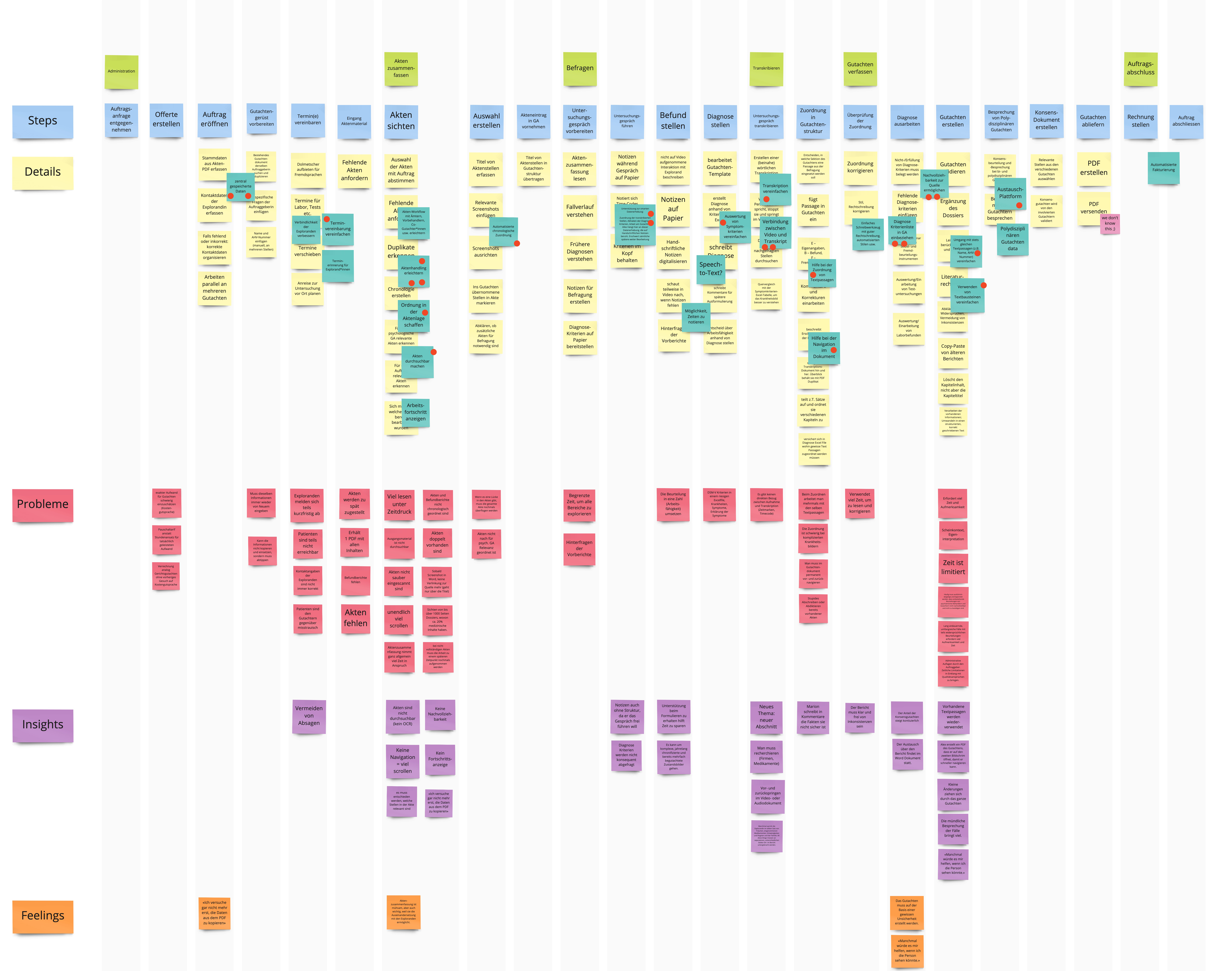 IST User-Journey-Map in Miro (image blurred to protect confidential data)
Ideation Workshop
After the synthesis phase, the next step was to have a brief Ideation Workshop. We planned an ideation workshop and came up with three important "How-Might-We- Questions":
How could a better overview of the file situation be achieved?
How could an overview present the entire case of a patient so that an overall picture can be seen in the preparation of the expert opinion?
How could linking between the video or audio recording with the text be made possible?
These questions served as the basis for a Design Studio session.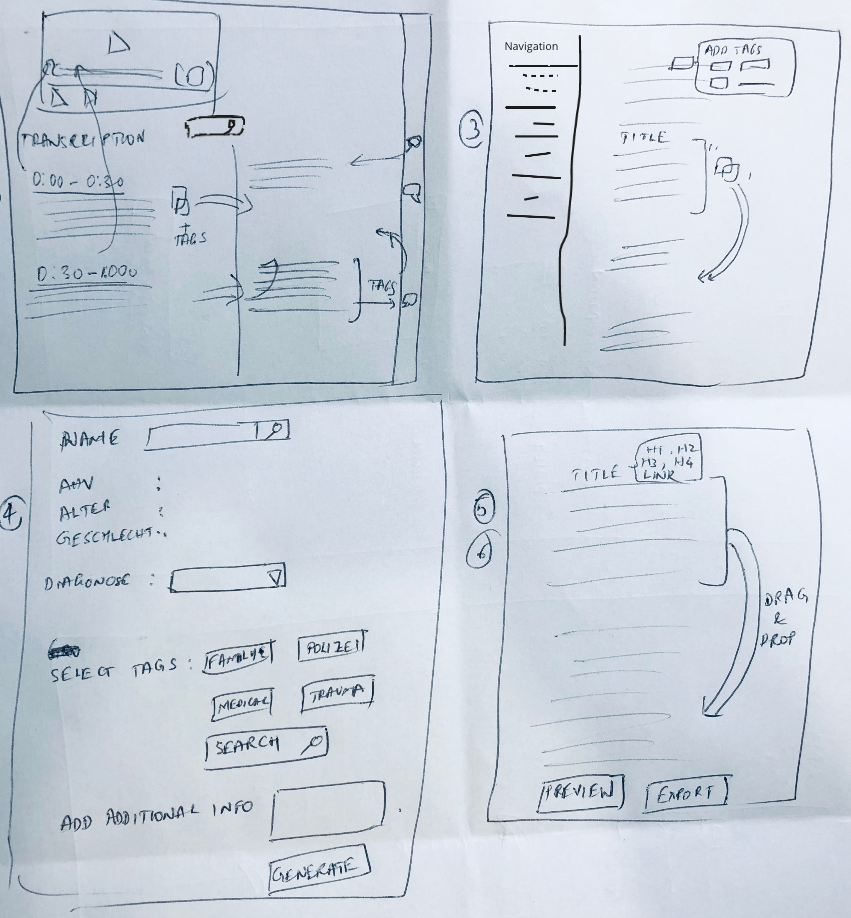 Visualization: Sketch for linking between the audio/video recording with the transcription
Recommendation to MTS
Our main recommendation to MTS was to conduct further user research activities based on the findings unearthed in this project, especially with other psychiatric firms. Some of our additional recommendations are below.
Since the segment of psychiatric evaluators in Switzerland is small, scaling the product internationally and including other types of evaluations by decoupling individual features, could be considered.
General facilitation of file handling: support in identifying duplicates, gaps and in the chronological order of file material by making files searchable (e.g., With OCR).
Assist with consultation, enabling access to entering accessing and entering symptom criteria while maintaining a free conversational style.
Simplify transcription, establish connection between the recording and transcription.
Enable traceability to the original files
Learnings
Contextual Inquiries, although time taking, can provide valuable understandings to a workflow.
Never underestimate the power of cold emails! We sent out about 700 emails to the members of the Swiss Insurance Medicine (SIM) association (emails can be publicly viewed) and received around 10% of responses which was very useful for our research.
The synthesis of data took us much longer than expected. I learned to give myself enough time and more to synthesize data.
Working with qualitative and quantitative needs to be strategized differently, but their combination can be used to form important insights about the project.
April 2020
Hi Manasa, it was a pleasure to work with you and your colleagues. And thanks for bringing up the initiative for a collaboration with us in your project. Your work definitely provides an excellent basis for our future development of Salomo.
November 2020
Wir sind tatsächlich ziemlich gespannt, wie Salomo von der Ärzteschaft aufgenommen wird, wenn wir dann einen ersten Release lancieren. Jedenfalls konnten wir Eure Arbeit und Ergebnisse bereits gut nutzen. So planen wir eine modulartige Markteinführung und eines der ersten Module wird sein, die Aktenzusammenfassung zu erleichtern. Dies auf dem Hintergrund Eurer Ergebnisse, dass dies der grösste "Pain" bei den Gutachtern ist.